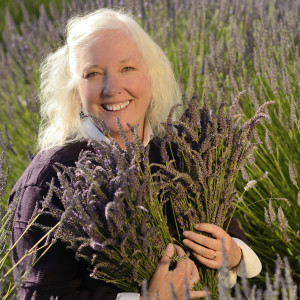 Susan L. Harrington CEO
(Chief Education Officer)
After 20 years in business management, Susan retired from her job as president of a financial institution investment and insurance subsidiary. After seeing fields of lavender in bloom, she'd already decided on growing and selling lavender on the hillside property of their new home in Hansville, Washington. Rather than placing the plants in rows, she designed a 40- foot labyrinth, with walking paths defined by the lavender, and in 2002 Labyrinth Hill Lavender was born.
Initially, Susan sold fresh-cut lavender bundles at the local Kingston Farmer's Market, and dried buds on eBay. Speaking engagements at garden clubs followed and led to lavender-growing workshops at community colleges in Oregon and Washington. The workshops in turn led to development of an online course in growing and marketing lavender. More than 500 students throughout the U.S. and in 11 other countries have taken Lavender: From Soil to Sachet via the Internet.
In the meantime, Susan began selling fresh lavender bundles via the Internet, which accounts for most of the output of her own and several other small fields she helped plant nearby. Along the way Susan also earned designations from WSU Extension as a Master Gardener and Native Plant Advisor, and enrolled in horticulture classes at Edmonds Community College.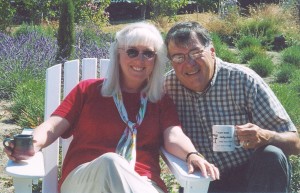 Jack Harrington, sometimes known as
"The Assistant Lavender Wrangler"
Jack worked in publishing, public relations, and association management. As an association exec, he planned and managed conferences and conventions of from 20 to 2,000 participants throughout the Northwest. His degree in journalism led to early work as a newspaper reporter and editor and eventually into public relations and publishing, and then management of business and professional associations. Membership in the Seattle-King County Convention and Visitors Bureau led to management of the Pacific Northwest Travel Association. Jack sees Agri-tourism as a "growth industry" for farmers, especially lavender growers in today's "green-conscious" society.
As Susan's lavender-growing and educational programs started to grow, Jack began assisting his "favorite CEO" with "weed wrangling" duties (not always successful) and with marketing and promotional planning.