ALL students have instant access to all course files to complete the class at their own pace. And each month they receive exclusive student updates with additional hints and tips on growing and using lavender.
See below for Full Course Description
Lavender: From Soil to Sachet
(small-scale or backyard farms)

Thinking of growing lavender as a business?
This option's for you!

Growing lavender as a commercial farm is not for the meek. This course provides guidance based on Labyrinth Hill's 15-year experience growing and marketing lavender. The comprehensive units include all the basic information for growing lavender plus:

Resources for Product Packaging
Ideas for Promotion
Advanced Propagation Techniques
And much, much, more.

Full On-Demand Access to all course files for an entire year!

Only $79

Lavender: From Soil to Sachet
with Coaching

While most students have all they need to start a small lavender farm, some would like to have more hands-on guidance. This coaching option provides broader access to Susan by phone and email. Here are some ideas to help you decide:

Chat about Challenges Specific to your Site.
Brainstorm Promotion/Marketing Ideas
Receive Personal Feedback on Website
You just want to chat with someone who's "Been There"

Full Course with Coaching
$149
Have you thought about growing lavender as a small business? Students across the country are sharing their experiences taking this dynamic online class. Read what they have to say about our lavender growing class.
You have affordable options! After teaching now more than 850 students in the US and 15 countries around the world, we discovered many students didn't need the personal, one-on-one attention that Susan offered with the course. So we set up the class with two options. It's still the same class that earned Susan a 99% top rating as an instructor on anonymous Course Evaluations. One option simply includes additional one-on-one consultation by phone or email when the student needs extra attention.
Description
You don't need to travel to France to enjoy fragrant lavender. Growing this ancient herb of love and devotion can be fun and profitable, even in your own backyards. From aromatherapy to culinary delights, from medicinal treatments to housekeeping tips, the versatility of this herb is unrivalled. Discussion includes plants to propagation, soil to sachet and tips on how to start your own lavender-growing business.
Participant Learning Objectives
Susan Harrington takes students through a year of lavender, discussing all they need to know to successfully grow this fragrant herb. Whether it's for fun or for profit they will be able to create crafts or start a small lavender business—even in their own backyard! Hints and tips include using standard household items—rather than specialized equipment—to propagate, grow and harvest lavender. Assignments include but are not limited to Internet research, soil testing and plant propagation exercises. All instructions, resources, recipes and more will be provided through e-mail and Web site links.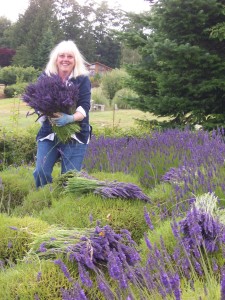 Instructor Bio
After more than 20 years of business management, Susan Harrington retired to reclaim a backyard overgrown with Scotch broom and blackberries. She planted lavender in 2002. Harrington sold fresh bundles of this fragrant perennial at the Kingston Farmers Market, and began educating customers on the many uses of this versatile herb. In the months following her first harvest, sales went from inter-neighborhood to international via the Internet.
More than 200 students have enjoyed her half-day course through local community college continuing education programs and regional conferences. Susan is pleased to offer an expanded online version especially suited for the small acreage farm. Whether you are interested in growing lavender for profit, growing lavender from seed or growing lavender from cuttings, this class is guaranteed to provide practical solutions.
Now more than 950 students across the US, Canada, and 15 other countries have taken this online course.
View Soil to Sachet Students in a full screen map
SaveSave
SaveSave