We know our lavender and lavender-growing class are special, but what are our customers saying?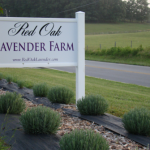 Tina Misko, Red Oak Lavender Farm, Dahlonega, GA
I was one of your students last winter. (2014) My husband and I have had an unbelievable year with lavender and just want to thank you. We planted about 400 plants last May and we did lose some, but most made it. I could not believe how fast lavender grows! We were able to attend market by mid June with our fresh lavender and started making products. We then opened our store for our lavender by December by enclosing our garage. We were also just asked to present at our county's Master Gardener's meeting in July and was asked to be a vendor at our state's Master Gardeners Convention next fall. We will also be a vendor at the Roswell Lavender Festival. We have 400 more lavender we will be planting this May doubling our lavender and plan to do this for the next two years. It's just my husband and I doing everything. Thank you again.


Kathryn via Facebook [Kathryn attended "Internet and Marketing are not Four-Letter Words" presented at Western Nevada College]
I just got back from a class on Lavender Production and Marketing where Susan did a brilliant job giving us her insights and love for wanting to help others succeed. I am NOT a morning person but it was well worth getting up at 4:00am to be there. Thank you so much Susan!!
Karen in Wayzata, MN says…
"The condition of the lavender when it arrived was fantastic…you would have never known it had traveled via mail. It is now day 5 and it's still as fresh as the day it arrived and the color hasn't diminished one bit. My neighbors and friends can't believe I found it on a web site using a search engine. Your instructions for handling upon arrival were extremely easy to follow, which I am sure is why it still looks so fresh. Again, the best of luck in the upcoming season and I will be back next summer. Thanks Again!!!"
Donna in Nampa, ID says…
"Again, thanks for all of your efforts. I am learning something new with each lesson and that's after lots of books and the conference!" [3rd North American Lavender Conference]
Rebecca in Niceville, FL says…
"So sorrry to take so long to reply…I've been weaving wands. My house smells fantastic… The lavender exceeds my greatest expectations…very long very strong stems and very fat flower heads. My wands have never been so plump… Thanks so very much…I hope to do business with you again next year."
Diane in Dayville, CT says…
"The lavender arrived safely. The aroma is heavenly, you could smell it right through the box. I caught the mail carrier sniffing it. LOL"
Bonnie in Minnetonka, MN says…
"I have ordered other lavender but none compares to Labyrinth Hill lavender. This is the finest lavender anywhere. The wonderful fragrance is intoxicating and lasting. Opening my packages from Labyrinth Hill is like Christmas all year. I am thrilled to have found this outstanding source."
Darlene in Warrenton, OR says…
"I received your shipment of lavender. I can't tell you how wonderful the box smelled…even before seeing what was inside I was so pleased with the wonderful aroma. When I opened the box I was delighted with the presentation. It was like receiving a gift instead of a product ordered from acme company."
Kari in Elko, NV says…
"Susan…(the fresh lavender) was perfect!! I got 14 wands out of it and I used 11 stems on each! My Aunt was with me when I got the bundles and couldn't get over how good it smelled."
Dee in Edmonds, WA says…
"I love having such aromatic sachets on hand for last minute gifts. I needed to order six more just to keep up with the requests for your wonderful lavender!""(Thanks Mom!*)
April in Stuttgart, Germany says…
"I received my lavender today. It is absolutely wonderful! The fragrance and coloring is superb. All the beautiful hues of purple and blue with tiny touches of greenish-gray. I know the fresh plants must have been breathtaking. When you're pouring your heart into making gifts for those very special people in your life, you want the best of everything for its creation. Well, you exceeded my wildest hopes and dreams. Too bad you can't infuse your photos with the scent. Then our sensation of smell could be tickled across the Internet. (Could this be a challenge to computer programmers? – grin/giggle)"
Lauri in Ohio says…
"OH YEAH!!! I'm so thrilled – everything came in (2 boxes) and it's wonderful. My mail lady loves me! She said her whole truck smelled like lavender this morning. The scent in my office has already changed my mood to reflect one of serenity and peace as opposed to the dreariness of our weather outside today (rainy, cold, and dreary). How fun to be able to share this with 200 women in our retreat."
Judy in Jackson, TN says…
"I got my package today and everything is so perfect!! Thank you so much for my lavender squeeze sack-smells wonderful! …Thanks again for all your help and your wonderful sachets."
Ginger in Snohomish, WA says…
"Thank you so much for the wonderful lavender! The fragrance is just wonderful and the color and texture beautiful."
Dottie in Wappingers Falls, NY says…
"I am surrounded by lavender and my heart sings…how I envy you with all those plants…just thinking…they plant rows of food for the hungry…how about planting a row of this lavender for Dottie!?"
*(Mom's comment is the only family member rave I've posted.)