From the Labyrinth Hill Kitchen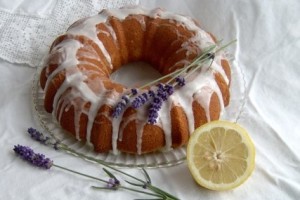 Tea Bread
¾ cup milk
2 ¼ teaspoons dried culinary lavender flowers, divided
2 cup unbleached all-purpose flour
1 ½ teaspoon baking powder
¼ teaspoon salt
6 Tablespoons butter, softened
1 cup sugar
2 eggs beaten
1 Tablespoon grated lemon zest, or 1 teaspoon lemon oil
Glaze
2 Tablespoons lemon juice
1 ½ c confectioners' sugar
Preheat oven to 325º F. Heat the milk with 2 tsp of the lavender and let steep until cool. Set aside.
In a small bowl mix together the baking power, flour and salt. In a separate bowl cream the butter and gradually add the sugar. Beat until light and fluffy. Beat in the eggs and the lemon zest or oil. Add the flour mixture alternately with the lavender and milk. Mix just until blended.
Spoon the batter into a buttered 9×5 loaf pan. Bake for about 50 minutes or until a cake tester inserted into the middle of the loaf comes out clean. (I spoon the batter into a Bundt® pan and bake for 30 minutes before testing.) Remove bread from the pan and place on a wire rack set over a sheet of waxed paper.
Put the lemon juice in a bowl and add the confectioners' sugar. (I used 1/2 the glaze recipe.) Drizzle the glaze over the hot bread and sprinkle with the remaining ¼ tsp of dried lavender. Yield: 18 1/2 inch slices.
(printer friendly: Lavender Tea Bread)
Sweet Lavender Tisane
"Tisane" is a tea made from dried fruit, flowers, or berries. Use culinary lavender for this recipe. Place 3 tablespoons of fresh lavender flowers in a teapot (1½ T if using dried). Add 2 cups of boiling water. Allow the flowers to steep for 3 or 4 minutes, strain and serve with a slice of lemon and honey.